We had the possibility to ask Joana Rijo, a UX designer, about her work, design maturity, and what she thinks is the key to surviving as a UX designer in the crypto universe.
Joana Rijo is a UX designer who's passionate about crypto and UX/UI design with an unusual background in biological engineering. Interview by Daniel De la Fuente, Service Design Lead at George Labs.
We wanted to know…
Q: What is a typical working day in the life of Joana?
A: I'm based in Vienna, Austria. My usual working day is spent in our office. I like it there since it's a cozy space and it's always fun to work with my amazing team. I'm definitely a morning person. I like to start my day off with a nice little 20-minute walk to the office while listening to my favorite UX podcasts. It's a great way to get my brain going and get some fresh air. And once I get to the office, I will reach out for my morning yogurt to fuel up for the day.
Q: Did you know anything about crypto before you started to work at Coinpanion?  
A: I've been into crypto since the beginning of 2021, which was when I first joined my previous job (which was also a crypto startup). It was there when I saw BTC skyrocketing to 60k, I was hooked. Since then, I have attended some crypto conferences, made some investments (some good, others not so good), talked to some brilliant minds in the field, and absorbed much knowledge about this exciting world. So, to answer your question: yes, I was definitely familiar with crypto before joining Coinpanion and I'm excited to keep learning and growing in this crypto field.
Q: Why is experience a key differentiator or a clear competitive advantage in the crypto financial world more than ever?
A: Digital app interfaces that are easy to use and accessible are in high demand. An average user expects an app with intuitive navigation, a consistent design, and a secure platform. The crypto world is no exception here. It can be a pretty complicated space for some users, so creating a mobile app that's simple and intuitive is key to standing out from the competition and attracting more users. And let's be real, when it comes to money, trust is everything. So having a clean, transparent, and visually appealing platform is crucial for building trust with users. Plus, since there are so many crypto apps out there, the competition is fierce! Offering a superior user experience can really set a platform apart from the rest.
State of the art is fine. Further development is finer.
Q: As a researcher: what has been one of your biggest AHA moment when interviewing a user?
A: I can share a funny experience I had during a research project: Our team was exploring the possibility of adding alternative assets to our app. We created a user persona based on our assumptions about the habits and characteristics of users who might be interested in this type of investment. For our first interview, we met someone who fit our user persona perfectly – but to a ridiculous extent! It was almost comical how well the user matched our assumptions. We were speechless at first, but then it was actually amusing. However, as we continued our research, we realized that unfortunately, this user was a persona unicorn, and we couldn't find any more of them! Lesson learned: don't get attached to your assumptions, keep researching.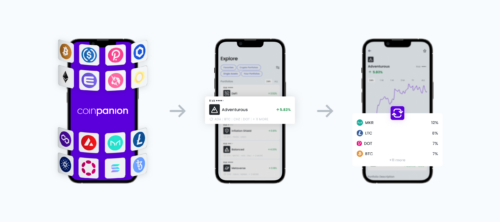 Coinpanion User Interface
Q: From your point of view: at which stage do you see your company's design team? 
A: I would say that our company has grown a lot in the past year when it comes to design maturity. From my perspective, we are in step 3, so design as an innovative process. Our company cares a lot about UX (in all departments) and we have established a solid design system that allows us to create consistent components and experiences for our users. Of course, there is always room for improvement, but I believe that we are definitely on the right path for the next step. Regarding my wishes, I would like to see us continue to prioritize user research and incorporate it into our design process even more! Innovating and pushing the boundaries of what we can achieve as a team is also something I really wish for.
Q: At the last GeorgeUXConf, we discussed the topic of design maturity and the importance of having someone at the C-level. How far are you from getting there?
A: I am still a bit far from that stage, but you never know what will happen tomorrow right? In the meanwhile, I feel lucky to be in a company where all departments, mostly leadership, have a UX eye and consider it when planning and developing. I sometimes even call them my junior UX designers as a joke (they love it). I do feel that we are all on the same page when it comes to the importance of UX in our products and services. So, in a way, I already feel that I am there, thanks to the fact that UX is very considerate and thought of in our C level.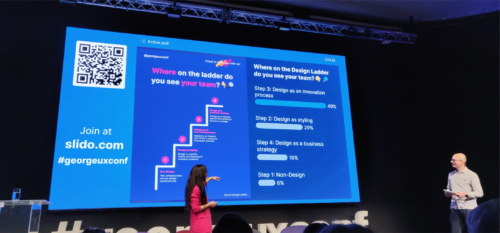 Design Ladder (Photo taken by Joana Rijo)
What will the future hold?
Q: Do you think regular banks will embrace crypto in the near future?
A: The financial industry is going through some major changes with the rise of crypto. It's hard to say what's going to happen to regular banks in the long run, but I definitely think they will start incorporating crypto and blockchain technology in some way. Some banks are already starting to do that, so it's clear that they're aware of the importance of crypto and the impact it's having on the financial industry. Plus, crypto is getting more and more regulated (which is obviously a must for banks) and it's already a super popular investment asset, so it's just a matter of time before banks catch up. Of course, incorporating crypto into their services and user experience isn't going to be a piece of cake. But it's going to be exciting to see how they embrace crypto into their user experience and design. Exciting times are ahead!
Q: Where do you see your career progression as a designer or specialist?
A: I'm still designing myself, yes. I'm designing the day away, and I love it! Sometimes I wonder if my hands automatically open Figma without me realizing it. As for my career progression, I'm always looking to grow and learn more. Whether at work or during my free time. I want to dive deeper into UX methodologies and explore different frameworks, but I know that designing will always be a big part of what I do. Who knows, maybe one day I'll become a specialist in a certain area, but for now, I'm just excited to keep designing and learning as much as I can in the field of UX.
If you are interested and want to hear more about UX-topics in the fintech industry, don't miss the George UX Conf 2023!
---
Coinpanion is a Viennese fintech startup founded in 2019. It simplifies the entry into the crypto world by providing an app to invest in crypto portfolios. These portfolios are automatically rebalanced to adjust to the crypto market, all in one click.