In this interview, George's chief designer gives an insight into her team's work and tells us about the significance of the George design.
"George has to be as simple and as easy to understand as possible"
Stefanie Prinz, Head of Platform UI/UX at George Labs.
So we wanted to know…
Q: Stefanie, what makes the design of George stand out?
Stefanie: There are four principles we attach great value to: George needs to be as simple, intelligent, personal and unique as possible. This is the foundation of the user experience that George offers. George users do not need to be experts to understand their finances and make the most of their money. George supports them whenever necessary in their daily financial life.
The competition in the market has led to a sharp increase in people's expectations of online banking and of digital products in general. People expect the same user experience here as they are used to getting, for example, from Google, Airbnb, Uber and other major brands. We want to offer George users not just a product, but an experience, with all the convenience that contributes to their satisfaction. George ensures that a bank product that everyone needs becomes something more – an everyday companion for their personal financial life.
Q: How do you ensure that George actually is user-friendly?
Stefanie:We work in line with the "user first" principle. There is no way round it, because a product is only good if the people who use it are satisfied with it. So we try always to think and design from the users' perspective – you could say we put ourselves in the customer's shoes.
Q: How exactly do you do this?
Stefanie: At the beginning it is always a question of what problem George users have and how we can solve it. We ask ourselves whether we are pursuing the right approach to finding a solution, and also what added value we can create with the design. Our objective is to design George and the underlying processes in such a way that the customers can recognise a purpose behind it. Another aspect that is really important to us is ensuring that the George app and George online are barrier-free. It starts with minimum font sizes and certain colours that we don't use because the contrast is poor, all the way through to technically optimising every single element of the interface so that it can also be used perfectly with screen readers and other tools.
Q: So that means that design is a high priority during product development?
Stefanie: Yes, a very high priority. But the real question is why someone decides on a particular bank. We know from market research that the customer experience plays an important role here. And it is precisely at this point that George comes into play, as by now customers have high expectations of a banking app. The online product experience has to be designed in a manner that makes it work simply, transparently and usefully for the users. Only in this way will their satisfaction increase. So with the design we look to create added value for George, and thus for the users, too.
This requires cooperation at eye level between the designers and the product managers in the team. The business side represents the product perspective, while our designers represent the customer perspective. Ultimately it is about achieving a balancing act between the two worlds and combining the best of both. Therefore, right from the start we have focused on the design as a strategic competitive advantage.
Q: How does George's design move with the times?
Stefanie: We are working continuously on design improvements, it's part of our designers' daily business, actually. So we have a living design system. We rarely make design changes with a big bang, but rather in continuous iterations. This means that existing design components are successively reworked and updated everywhere in George at the same time.
Q: What do you like best about George?
Stefanie: I like George because George addresses you personally and always tries to support and help you, whether in terms of the design or linguistically. We don't want to create a distance between us and our customers, but manage their financial life together with them. Here, the text and design are intermeshed, because it is the combination that does it. And we are proud of that.
"We want to offer George users not just a product, but an experience, with all the convenience that contributes to their satisfaction." Stefanie Prinz
On 10 October, the first-ever George UX Conference powered by George Labs is taking place on Erste Campus. At this event titled "Shaping Finances by Design", designers and other creative individuals from all over Europe will be meeting up to exchange ideas and learn from one another. If you want to read more about the event, take a look at this blog post.
---
Who is Stefanie Prinz?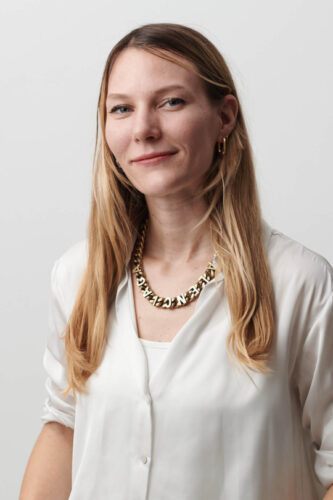 Stefanie Prinz has been at George Labs since 2014. She got into design early: after training in graphic design for several years, among other places at the Federal Institution for Graphic Education and Research – "die Graphische" – in Vienna, she studied at the University of Applied Arts and worked as a freelance designer for a number of years. Today, the mother of two heads a team of 21 people at George Labs and is responsible for the George design and user experience in six countries.